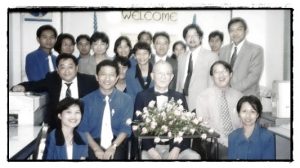 In early 1990s, Chiang Rai, the northernmost province in Thailand, was heavily affected by the HIV epidemic. The HIV prevalence among the military conscripts in Chiang Rai was 16.5%, when the national figure was 4%. Tuberculosis (TB) cases increased sharply with an exceptional high death rate (up to 60%) due to the HIV epidemic. In 1992, a group of Thai and Japanese doctoral students carried out their multi-disciplinary dissertation research on TB and HIV/AIDS in Chiang Rai. Although the group members completed their respective degrees, they realized the importance of continuing the research and gaining further knowledge for effective TB and HIV prevention and care. The Japanese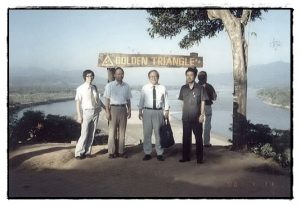 researcher proposed a collaborative research plan to the Research Institute of Tuberculosis, Japan Anti-Tuberculosis Association (RIT/JATA), to set up "TB/HIV Research Project" and implemented TB/HIV research and program development in close collaboration with Chiang Rai Provincial Health Office, Chiang Rai Regional Hospital and the National TB Programme.
In 2002, the Thai researchers' group registered as a Thai non-profit and non-government organization, called "TB/HIV Research Foundation" (THRF) which continued their close collaborative research with RIT/JATA. THRF has extended their collaborative research with additional local, national and international partners.